Since Keeping Claire won't be out for a month or so, and I've been slacking in my pimping duties, here are a couple recent releases you might enjoy!
It's a bumpy ride to dirtily ever after…
Wicked ³, Book 2
Harrison Jennera Abbot was born with a silver broomstick in her hand. Heiress to a Magian dynasty. Good witch extraordinaire. She's sick of it. She longs to be human, normal like her friend Callie. Or, uh, as normal as Callie ever gets.
She thought running away would be an adventure, but three months playing human has given her a new point of view. Just as she's ready to return home, though, the real adventure begins. In short order, she's attacked, saved, kidnapped…and seduced.
Jacob and Ric are convinced that Harrison is the destined third of their triad—if they can convince her they won't use her as a sexual chew toy, or a social stepping stone. Before they can make her beg for the match, though, she needs to know the truth about who tried to kill her. And why her brother keeps sending her cryptic psychic messages.
Hard as it might be on their Magian male pride, they might have to let her go…trusting that in the end, she'll choose them.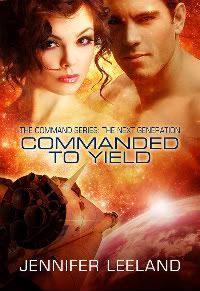 Commanded To Yield
Jennifer Leeland
(Part of the Command series)
For thirty years, Asberek has maintained peace with her mother planet, Earth. But when Earth Central tries to assassinate the colony's leader, the ties that hold them together are threatened. Earth Central sends Fallon Denny, a smart and savvy diplomat, to negotiate with the colonial council.
The minute Matthew Lestrano meets the visiting Earthling, he's torn between his loyalty to the colony and his lust for the beautiful, but dangerous, visitor. Once again, the drug that permeates Asberek's atmosphere leads to strange connections, and Matthew finds that dominating Fallon Denny may lead to his downfall.
Treachery and betrayal create cracks in negotiations. When Fallon's life is as risk, Matthew is the only one who can save her, and she finds there is more than politics at stake when she is commanded to yield.
Prequel to the Coyote Hunger series.
Forced to make the heartwrenching decision to leave Whispering Mountains, Rowan Wilder isn't about to go without securing her bond with Quinn MacClellan. Neither expected their first time to be on the forest floor or while running to escape a madman but when it comes to claiming their mate, nothing can stop the hunger from burning out of control and consuming them both.
Publisher's Note: This is not a standalone story; it has a cliffhanger ending. The next book in the series, Coyote Home, is needed to reach a satisfactory conclusion.