I'll be attending the RT Booklovers Convention in Los Angeles April 6-10th. I'll be at the Ebook Expo on Friday the 8th, 4-6pm, as well as the Book Fair on Saturday April 9th, 11am-2pm. I'm not quite sure about pricing for attendance at the Ebook Expo, but the Book Fair is $5 to enter if you're not attending other parts of the conference.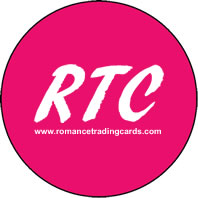 A group of authors and readers on Twitter decided it would be fun to make baseball-style trading cards for romance characters. And Romance Trading Cards was born. You can find authors who are participating on the website. A lot of them will be attending the RT Convention, as well as RWA's national conference in New York this summer.
Despite my inherent laziness, I was shamed into encouraged to participate, and once I got started, I had quite a bit of fun making these up. I won't discuss the hours spent playing with fonts and colors and what-nots, I'll just let you judge the results. I was only going to do a couple, but I got on a roll picking out stock photos of the guys, and ended up with four heroes done, for three books (if anyone wants to find a nice stock photo for Zach and come up with some stats, I'll probably make his card up later, I just won't have time before RT). Now, please remember that I'm not a graphics person! Jeannie Lin was awesome enough to make up some standard borders that we could use, so that was the easy part. Anyway, enough babbling, here they are. Once they're printed and delivered, I'd be happy to send them out to anyone who asks.
Caleb – Perfect Formation
Richard – Perfect Formation
Connul – Bound by Sunlight
Ryan – Keeping Claire