Finding Forever (Fully Invested Book 3)
A small town contemporary romance
Three savvy women on the road to financial independence ditch their 9-5 jobs and begin their new lives. They'll support each other as they find their dreams coming true…and maybe find their happily ever afters, too. This small town romance is filled with people you'll love while you're rooting for Jason and Naomi to come together.
Note: Each book has it's own HEA, no cliffhangers…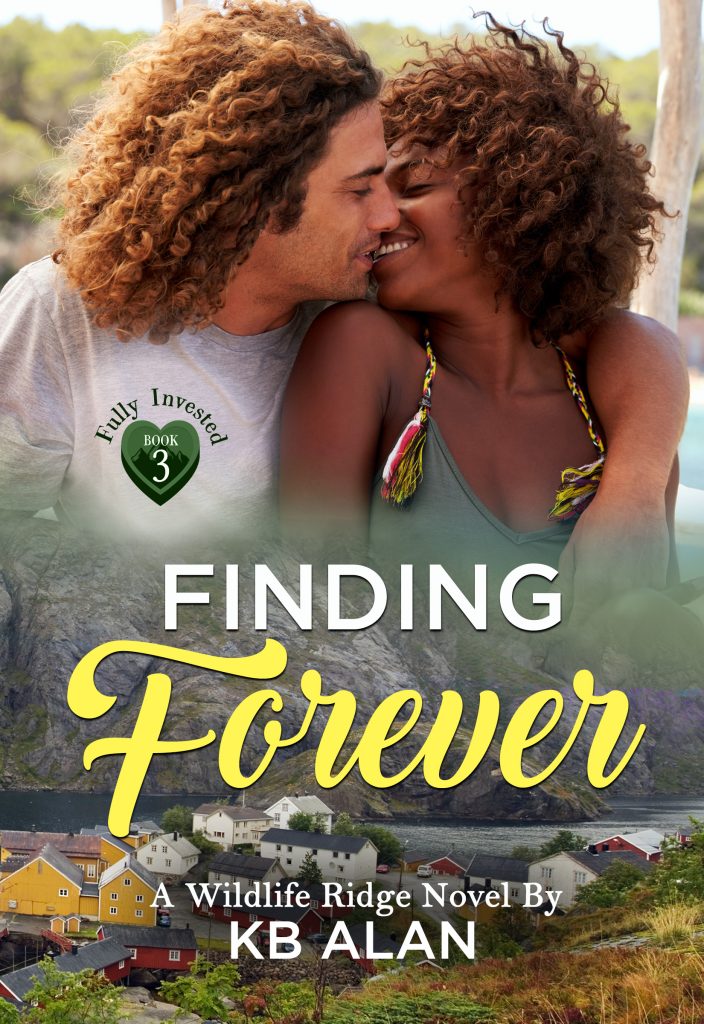 Details
Finding Forever
Small town contemporary romance
Series: Fully Invested (A Wildlife Ridge trilogy) – Naomi and Jason
Novel: 70k
Release Date: 2/12/21
ISBN Trade Paperback: 978-1-955124-02-7
ISBN Trade Paperback Large Print: 978-1-955124-05-8
ISBN Hardcover: 978-1-955124-08-9
ISBN Hardcover Large Print: 978-1-955124-11-9


Links
Blurb
When Naomi moves to Wildlife Ridge, she has high hopes for her new town, her real estate business and being close to her best friends. When her contractor does a runner, she's stuck with his brother who agrees to fill in, but isn't at all happy with the situation.

Tempers flare until they can get a handle on their working relationship. And until they start to notice how much they have in common. Can Jason convince Naomi that his initial jerk reaction wasn't about her, and that, given the chance, he can be all about her?
Excerpt
Chapter One

"Happy New Year!"
Naomi clinked her champagne glass with those of her friends. She, Rose and Ethan had come to Janelle and Aaron's party a little bit early, so they could have a private toast before the other guests arrived.
Janelle had wanted to start a new tradition with her fiancé, adopting that of her mother. Every year, Dana Bouchard hosted an open-house style New Year's Day party. This would be Janelle's first year not attending, and Aaron had encouraged her to start her own tradition. Their tradition. Naomi had attended the Bouchards' party several times, and was glad that Nell was going to give it a go.
Last year, Rose had been in Colorado for the holiday, and Naomi and Janelle had done a video call with her from the Bouchards' house. At the time, they'd never expected that only one year later they would all be back to living in the same city. Rose had been engaged, but now she was married and Nell was engaged.
This was the first time they'd invited men to join them in the early celebration, and Ethan and Aaron were welcome additions to the group. Naomi didn't feel like a fifth wheel, not most of the time. She and her best friends had spent too many years together for her to feel left out with them, and the guys were good for her girls. She was thrilled that her friends were so happy, and Naomi looked forward to helping Janelle plan her wedding.
Ethan raised his glass again. "To Rose, Naomi and Janelle. Thank you for making us family."
Damn, it was like he'd seen inside her heart, Naomi thought as she raised her glass again. Aaron pulled Nell in tighter too him, and Naomi suspected he'd been touched by the toast, as well.
"To family," Aaron echoed.
They clinked glasses again and drank.
"Can you tell me more about this tradition, Nell?" Ethan asked.
"Sure. My grandmother Yuki's parents were Japanese, first generation born in Hawaii. This is a Japanese tradition. We serve ozoni, which is a soup that has a little cake of mochi in it. It's for luck—something about how the mochi stretches means longevity."
"The soup is good," Rose said. "Nell made a pork version and a shrimp version that you can choose from."
"She'll put a mochi cake in your little soup bowl, and you can have a second serving, but only if you have thirds. You have to eat an odd number of mochi cakes," Naomi added.
Aaron nodded. "Odd number. Got it. There's lots of food here, does any of the rest of it have rules?"
"Nope, just the mochi," Nell said. "I may have overdone it on the food."
"I don't think that's possible," Ethan assured her. "Half the town was talking about coming. They enjoyed the barbecue in November."
Half the town of Wildlife Ridge would be about eleven hundred people, so not a lot when talking about towns, but definitely too many when talking about a party. Naomi knew he was exaggerating, but she was wondering how many people really would show up. The party in November had been to welcome Rose and Ethan back from their six months living in Spain, so the guest list had been heavily tilted towards Rose and Ethan's families.
Janelle and Aaron were both newcomers to the little town in Colorado, though. As was Naomi. Sometimes she had a hard time believing that she'd moved from Los Angeles to a town where the total population was about half the number of students that had been enrolled in her first year at UCLA. It was kind of crazy. But it was cool, too.
She actually knew her neighbors. The lady at the bank addressed her by name and sincerely meant it when she asked how her work was going. If she passed the postal woman on the street while heading to the grocery store, she would let Naomi know if there were packages for her that day.
When she'd first moved, she'd intended to live in one of the units of the triplex she'd purchased and renovated in Bell View, the town about forty-five minutes away. But then she'd gotten several excellent rental applications and decided she'd be an idiot to turn down the good tenants paying even more than she'd originally calculated in rent. And she liked Bell View well enough, but she liked Wildlife Ridge more. So she'd asked Ethan if she could stay in the apartment in his building until she found something to buy there.
He'd tried to give her a deal on the rent, but she'd insisted on paying standard price. The cost for the little two bedroom apartment was only a little more than half what she was charging for the two-bedroom units in her own building. Still, she didn't want to be in an apartment forever, so she was going to have to figure out her next moves.
"Naomi, when does the work on your new project begin?" Ethan asked. "Pretty soon, if I remember right?"
"Yes, next Monday."
"That's exciting," Rose said, and raised her nearly empty glass again.
"I think so. I'm not planning on going into the business of renovating buildings, but it'll be a good opportunity to do it again so soon after mine, and cement the relationships I started with the contractor and the other vendors. Even if I never again work on someone else's project like this, it will be more good practice and education for my own stuff."
"This is the multi-unit your friend from college bought?" Aaron asked.
"Right, a sorority sister. She and her husband moved to Colorado Springs years ago, and when she heard about me buying my triplex in Bell View and renovating it to hold for long-term rentals, she contacted me. Said she'd been interested in getting into being a landlord and a friend had pointed her to this building, which isn't far from mine. She thought it was a good deal, but was intimidated by how much work is needed to bring it up to speed. I thought she just wanted advice, but it turns out she wants to hand that whole side of it over to me, and not take over until it's time to rent out the units."
"And she'll pay you decent money?" Nell asked
"Yes."
"Then it sounds like a good deal. I'm excited for you, though I don't love you making that commute so often."
"Please. Driving the highway here, where sometimes you don't even see another car for half an hour, is almost a pleasure."
"Ha, true," Janelle agreed.
The doorbell rang, and Janelle and Aaron went to greet their first guests.
"How much work is there to do?" Ethan asked as he, Rose and Naomi made their way to the living room to claim seats.
"Brandon estimated about twelve weeks."
"And you liked working with him."
"Yeah, we did well together. He didn't get pissy when I asked questions and he showed up and kept things mostly to budget. He had a good crew. I appreciated you going over with me a few times, Ethan. It was good to get a second opinion that everything was as it should be."
"Happy to do it, and happy to do it again, if you need me, though it looked like you had everything completely under control."
Rose waved her glass at Aaron so that he would bring a full bottle when he returned. "You're in full construction mode now that you finally get to tear our house apart," she told her husband.
They'd bought a house on Dragonfly Road, the same road as the Salmon Springs apartment building where Naomi was staying, but on the other side of Main Street, in an older development. Naomi agreed with Ethan that it needed almost a full teardown to become the house that he and Rose wanted.
Aaron returned with the bottle and filled their glasses as Janelle ushered Rose's parents into the room. Funny how they'd come together, even though they'd been divorced for nearly twenty years, Naomi thought. She raised an eyebrow at Rose, who shrugged and drank from her flute.
Naomi suspected that Rose was indulging in the champagne a little more than usual because she and Ethan were going to start trying to have a baby in the new year. Her heart warmed at the image of her friends cuddling an infant this time next year.
Jin and Cal, who owned the antique store in town, joined them in the living room.
"This is so fun," Jin said. "I haven't had ozoni in years."
"You've been holding out on me," Cal complained.
"How long have you two been married?" Naomi asked.
"Six years," Cal said. "And Jin's mom does make a lot of traditional Japanese food, although not sushi, which is what brought us together."
"Wait," Ethan said, laughing. "I haven't heard this story. We've even gone to sushi together, and you didn't mention this. Spill."
"It's not a big deal. We were mutual friends with someone on Facebook. I had gone to college with her," Jin said.
"And I'd worked with her at my previous job," Cal added.
"She posted asking for the best sushi place in Pittsburgh," Jin said.
"And someone answered with this spot near campus that only survives because kids are too broke and vehicle-challenged to go farther." Cal popped a shrimp dipped in cocktail sauce into his mouth.
"I've seen that happen," Naomi agreed. "A subpar eatery that students swear is the best thing ever, and is total crap. I think it has something to do with them finally gaining their independence, but not much of it. And their brains still forming."
"Total crap exactly describes this place," Cal confirmed. "A couple of people were agreeing with the madness, so I went on to gently redirect. I mentioned my favorite place, but the kids were sticking to their guns and insisting that the college joint was better and cheaper."
"I think one of the diehards was actually her sister, who was still a college kid. She didn't take kindly to her suggestion to big Sis being criticized. Hopefully she's gotten choosier since then. And less defensive." Jin picked up a handful of nuts from the bowl on the coffee table and tossed a couple into his mouth.
"Anyway, Jin came on and was a little more blunt in his assessment of that place, and backed my selection," Cal continued. "Which I appreciated. We had a little back and forth, friended each other, stalked each other's accounts, and met up for sushi one week later."
"Eight weeks from then we moved in together, and we got married on the six-month anniversary of that Facebook post."
"Awww," Naomi and Rose said at the same time.
"Anyway, the point of all of that was that I've never been with Jin's family on New Year's Day, and he's never made soup in his life, so this is a first for me."
"Well, I'm ready for mine," Naomi said, and moved back to the kitchen, most of the group following her.
Aaron was standing in front of a large pot of boiling water, long tongs in his hand. Nell was dishing up soup in small, colorful bowls, then holding them out to Aaron, who fished out a mochi cake and added it to the bowl. Naomi requested the pork and waited for her mochi, then dug in. The soup was delicious, and the cake chewy and stretchy, exactly as she remembered. Now she could really start her new year.
"Just like your mom makes," she told Nell, who beamed.
She managed not to make a joke about Aaron manning the pot of boiling water as she waited for the others to get their soup.
#
When Naomi slipped out a couple of hours later, there were a lot of people in the house. She'd had her ozoni as well as plenty of other delicious foods, and was feeling pleasantly full. She made sure that Naomi didn't need any help and was pleased to see that Aaron had clearly shed his early reputation as a hermit and was fully participating in the hosting duties.
She'd considered driving, as the snow had been falling fairly heavily when she'd left her place, but she had her good boots, down coat, hat and scarf. And she was trying to embrace the idea of not driving if she was only going somewhere within town. A huge change from her life growing up in Long Beach, California, and then in Los Angeles as an adult.
It had been a little bit surprising how well she'd taken to living with the snow. But she didn't have to shovel it and it was just so damn pretty. She looked around as she cleared the open gate at the end of the driveway and continued on.
The mountains rose up all around her, sheltering the small town in its tree-filled valley. Rose had told her that Wildlife Springs had been a logging town way back in the day, but effort had clearly been made not to denude the town. Still, there weren't so many trees that she had bad camping vibes of the horror movie variety.
Some of the housing tracts were surrounded by what she would consider forest, and then there were the single houses and cabins out in the actual woods. She could maybe see herself in one of the housing tracts, but no way was she moving out into the damn forest. For one thing, the housing tracts were plowed as soon as the snow fell, and she was pretty sure that wasn't the case for the more out-of-the-way properties.
A ray of sunlight broke through the gray clouds and sparkled off the snow on one of the mountains. She actually stopped to stare, it was so beautiful. Sort of like watching the sun sparkle on the waves of the ocean, but different. Everything was a little bit different here.
Where she'd grown up, it was all traffic and people and businesses and noise. She didn't mind that. It was all she'd known. But she was starting to get used to rarely seeing more than two cars in a drive-through, not having to stop at a single stoplight the whole length of town—because there were none—and the predominant background sound being birds and the wind in the trees instead of cars whooshing by.
Speaking of cars, David Ziegler tooted his horn at her as he turned into the parking lot for the house that had become his real estate office, across the street. The fact that she recognized his car, and him—and had known the horn was a greeting, not a complaint—showed her she was getting used to being here after only four months.
Of course, in this case, recognizing the car was easy. David liked to think of himself as an artist. She supposed she couldn't argue otherwise, as his artwork was skilled. His hobby was to paint his car, once a month, to look like an animal. He'd scrape the job at the end of the month, spend a day or two working on the new artwork, and debut the art on the first. She had to admit, the car looked cute as a mouse. The whiskers were impressive.
The storm clouds seemed to be lightening up as the day progressed and she wondered if they'd see stars tonight. That was something she wasn't sure she'd ever get used to. Back in California, she could have driven out to the desert to see the stars, but who ever bothered? She'd gone on a small retreat with some of her sorority sisters to an AirBnB out in Joshua Tree once, and the sky had, indeed, been spectacular. But here, anytime the clouds were clear you could see the stars so clearly, without having to leave town.
She went up the steps to Salmon Springs, then held the door open for Mrs. Rubinski, who was coming out. The older woman was wearing a kelly-green puffy jacket, forest-green snow pants and lime-green knock-off Ugg boots. Naomi didn't even blink, as this was typical wear for the woman who had retired from teaching about a hundred years ago.
"Hi, Mrs. Rubinski. Are you walking? Can I drive you somewhere?" Yes, she thought, the small-town infection was taking her over.
"Thank you, Naomi, but I'm fine. I'm just meeting my friend Sharon for a walk. She's Mayor Romano's mother-in-law, you might not have met her yet."
"I don't think I have, though I've met Shirley and Tom." The mayor and her husband were frequently seen out and about.
"Sharon and I have known each other since sixth grade," Mrs. Rubinski told her. "We've decided our New Year's Resolution will be to take a forty-minute walk every day, rain or shine. We figure if it's really bad out, we can walk up and down the halls in the building here."
"That's smart," Naomi said as a car pulled into the lot.
"There she is now. You go on inside and shut the door so Ethan doesn't have to pay to heat the stairs."
Naomi bit her lip. "Yes, ma'am. You ladies enjoy your walk."
She headed inside to the second-floor apartment she and Nell had rented when they'd moved to Wildlife Springs. The sound of Mr. Houston in 203, calling for his dog Ellie, made her smile. Ellie was a cutie and Naomi couldn't resist the tiny creature.
It was all quiet, however, when she went into her place. Janelle had moved in with Aaron after he'd proposed in November, and Naomi had turned the second bedroom into an office. Heading there after she shed her winter gear, she opened her laptop.
When she'd renovated her triplex, she'd made extensive notes so that she could build a template checklist for all future renovations. She didn't want to have to reinvent the wheel if she did this again. Which, she now was.
She pulled up her notes and started on her template.
When the phone rang an hour later, she was pleased with what she'd come up with. Checking the screen, she saw that it was her mom.
"Hi Mom, Happy New Year."
"Hi, baby. How are you doing out there in white land?"
Naomi laughed. "Do you mean the people or the snow?"
"Yes."
Naomi laughed again. Her parents had known she'd planned on leaving Los Angeles for some time, so they hadn't been surprised last June when she'd announced that she'd made her decision and was moving to Colorado in September.
They'd known for years that she was working towards the goal of living in a lower cost of living city, where she could manage her buildings and invest in more real estate, eventually living off the passive income.
"I'm doing good. Nell had a party at her and Aaron's place, so we all got to have our ozoni like her mom makes. And our champagne toast. The neighbors and community were only slightly skeptical of a tradition and food they'd never heard of."
"I'm glad. I'm working on prepping your father for us to go out there for the wedding. I'm still annoyed we didn't make it for Rose's. I may need you to call him and tell him how much you miss him, after the invitations go out."
"Yes, ma'am. I start on renovations for Shelly's building on Monday. I might call Auntie June today and butter her and Uncle Derek up before I start with the construction calls next week."
"Call them, but you know they're happy to help."
"I know. What's going on with everyone else?"
She'd flown home for Christmas, which had been an interesting experience—to be back "home" without her own place. She'd stayed one night with her younger sister, Eleanor, in her new condo. Nora had been excited to play hostess and proud to show off her space. Her sister had spent years studying and busting her butt to get a good promotion at a law firm and was beginning to see the rewards.
She'd also spent a night with her older brother, Marcus, and his wife and twin boys, who were three. He and his wife, Honey, had flown to Jamaica to visit with her family the same day Naomi had returned home to Colorado. She loved that, as a dentist, Marcus could make a schedule that allowed for such a three-week trip. One of these days, she planned on joining them. She'd only met Honey's relatives at the wedding, but would enjoy getting to know them better. She'd set the goal in her travel budget and was working her way towards meeting it, slowly but surely.
Of course, she'd spent the last two days—Christmas and the next—at her parents' house. The first time she'd spent the night with them since moving into her apartment her junior year of college. It had been a little bit strange, helping her mom fill the stockings late at night while sharing wine, but still feeling the thrill of waking up on Christmas morning and knowing Dad would be making his Santa shaped pancakes. The bedroom she'd shared with her sister had been turned into an office, so she'd slept in the room that had been her brother's, now a guestroom.
"Marcus and Honey won't be home until the sixteenth. He says the boys are having a blast. They have a ton of cousins to play with."
"The flight was okay?"
"Mostly. They had that layover in North Carolina, so they were able to run around the airport for a bit and stretch their legs. Your father's trying to grab the phone from me, so I'll go. I love you!"
"Love you too, Mom."
She chatted with her dad for a while then hung up and went to make dinner. Her late New Year's Eve was catching up with her. She'd gone on a date with Vic, who lived in the building next to her triplex. It had been a second date, and the chemistry hadn't been strong, so she hadn't expected it to go late. But they'd been having a great time talking about their favorite book series, which had led to their favorite movies, and they'd ended up chatting until two in the morning. Unfortunately, they'd agreed that the chemistry thing wasn't about to change, and there would be no more dates.
Still, the dinner at a decent restaurant, with a cheerful midnight kiss, hadn't been a terrible way to spend an evening.
She checked the dating app on her phone. Louis Delgado had been chatting her up for a few weeks. She wasn't sure about him, but it was time to either move forward or cut him loose. Giving him the address for Shelly's building, she arranged to meet him there after her walk-through with Brandon on Monday.