I'm so excited to introduce this new book to you! Sweetest Seduction is a novella set around Valentine's Day. I had a lot of fun writing this book, thinking about what kind of date Keith would have to plan to get through Val's thick skull that they would be great together. In fact, it's the first time I ever went on an activity specifically for research on a book, and deducted the cost from my taxes. I felt so official! Many, many years ago I went on a horseback ride over the Hollywood hills, and I decided that was the perfect end to the marathon date that Keith takes Valerie on for. But, of course, it had been a while, so I grabbed my friend and made the trip. I, er, didn't discuss with her the plans that Keith had for Val during the ride, so she may be a bit surprised by that section when she reads the book (let's just say it involves a battery operated toy).
It's also the first time I tried writing something for a holiday. I definitely feel that this book has a sweeter vibe than my others, because apparently I just have a sweet spot for this holiday. Who knew?! It's not like I've ever had any particularly phenomenal Valentine's Day dates or experiences, but I still melt over the idea of the right guy handing over a single rose (or more, I'm not picky!!), and that's how Sweetest Seduction came to be.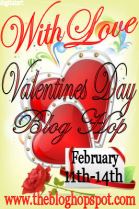 If you're the contest type, there will be three ways to win Sweetest Seduction in the next few days, including one here. I've joined the Valentine's Day Blog Hop, which runs the 11th through the 14th. I'll be giving away an ebook copy of Sweetest Seduction, of course, as well as a necklace. So check back here tomorrow and I'll give you the details for my contest, plus a couple of others.
Happy reading!!